Celebrimbor
Forger of the Rings of Power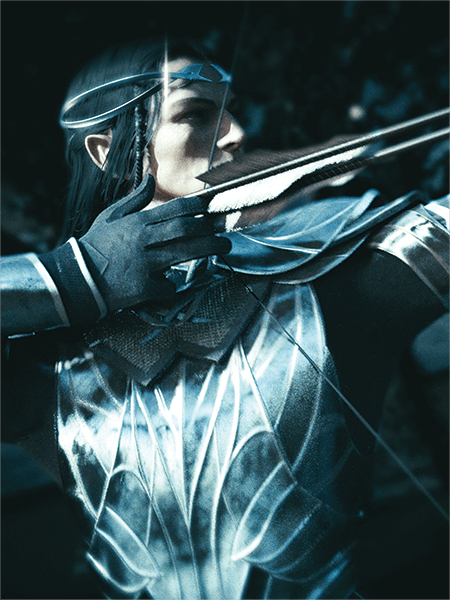 Last of the House of Fëanor, Celebrimbor ("hand of silver" in Sindarin) was the greatest of the Elven craftsmen, responsible for crafting the Rings of Power. Working with Sauron, Celebrimbor made sixteen great rings for the Men and Dwarves. Without Sauron's knowledge he made three more rings for the Elves, yet he was deceived by Sauron, who had crafted the One Ring to dominate the other rings.
Sauron then captured Celebrimbor and directed him to further perfect the One Ring, inscribing it with Tengwar script. Realizing the scope of Sauron's ambition, Celebrimbor escaped with the One Ring.
Using the One Ring's power to raise an army of Uruks, Celebrimbor fought Sauron for dominance over Mordor. In a titanic battle against Sauron, Celebrimbor defeated the Dark Lord but lost the One Ring when it slipped off his finger and onto Sauron's before the killing blow. In revenge, Sauron murdered Celebrimbor's family before his eyes, then killed Celebrimbor with his own smithing hammer. But with Celebrimbor's fate bound to the One Ring, he was doomed to remain a wraith until the One Ring is unmade.
Celebrimbor's spirit possessed Talion's body when the Ranger died at the hands of the Black Hand of Sauron. Celebrimbor had been a wraith so long that he didn't initially remember his name or past, but with Talion's help, he has regained his memories -- including the memory of how to forge a new Ring of Power.
Few in Mordor know Celebrimbor by name, but many know him as the Bright Lord, a union of Talion and Celebrimbor. The present-day Orcs who flock to the Bright Lord's fortresses don't realize that the "Bright Lord" they've heard about in folk tales is the same historical figure: Celebrimbor himself, who took the "Bright Lord" moniker centuries ago when he first strove against Sauron.
"I shaped the history of Middle-earth. I crafted the Rings of Power…"